The 90 young sailors who attended the Cadet Nationals at Brixham Yacht Club were blessed with a wonderful week of racing, dolphins on the race track, seals watching the boats launch, shore events (in the water of course), barbecues, and just hanging out with future lifelong friends in the lovely weather which arrived right on cue for the English Riviera.
Brixham Yacht Club served up a treat – despite a number of former Lark Class sailors who were banned from the club in the 1990s turning up as (only somewhat) reformed parents – the welcome could not have been warmer and the Commodore's speech at the closing prize-giving summed up how happy the club had been to host us.
Amongst the 39 boats entered in gold and silver fleet this year we were joined by eight boats making the trip from Belgium – moules frites were on the menu for the first night dinner, and it was also great to see a strong turnout of six boats in the coached regatta fleet who coped with challenging conditions but had some really close racing too – today's new helms and crews; tomorrow's potential champions.
Sailing kicked off with boisterous conditions for the practice race and first points race. I really can't recall who won the practice race but a number of boats bailed out at the finish in line with superstition about winning it so it really doesn't matter.
By the time of the first points race which followed conditions were beginning to get really quite fruity – in part wind strength, in part sea state and in part due to the proximity of the windward mark to the shore of Torbay which caused some pretty big gusts and shifts and caught quite a number out.
Phoebe Bradshaw and Rhona Enkel kicked off their series in style taking the win from Lia Fletcher & Kali Karaskas and Yasmin Sfaxi & Matteo Mancini. A number of other fancied boats took to sampling the water temperature thus adding some early discard pressure to their week's points tally. In Regatta fleet Ethan Miller & Thomas Pontet coped best and took the win from Ryan Harris & Oliver Caygill.
Phoebe & Rhona repeated the trick in race 2 ahead of Eli Watling and George Little in second and Ollie & Will Mears in third. Two bullets and Phoebe & Rhona had laid down the gauntlet. Results elsewhere were rather more random as the shifty but windy conditions made it hard to get the beats right and tempted many a sailor who should know better to bang out left or right in search of nirvana which often failed to appear.
In regatta fleet Ryan & Oliver picked up their first win of the week from Mimi Slump & Jolyon Conway.
Over the next two races on the second day Phoebe & Rhona picked up a sixth and a further bullet to leave them in a commanding position after four races sailed – they were clearly loving the big breeze and the challenge that came with it. At this point Daisy Nunn & Oscar Bush had scored 8, 8, 3, 7 so nothing to see there then – more on that later. Katie Yelland & Dom Rowell had got second in race 3 and Hazel Whittle & Gwen Thorogood got a second in race 4 from Olivia Gowland & Hettie Thorogood.
In Regatta fleet the spoils were being shared about with wins for Belgians Erazem Perko & David Toro and Mimi & Jolyon.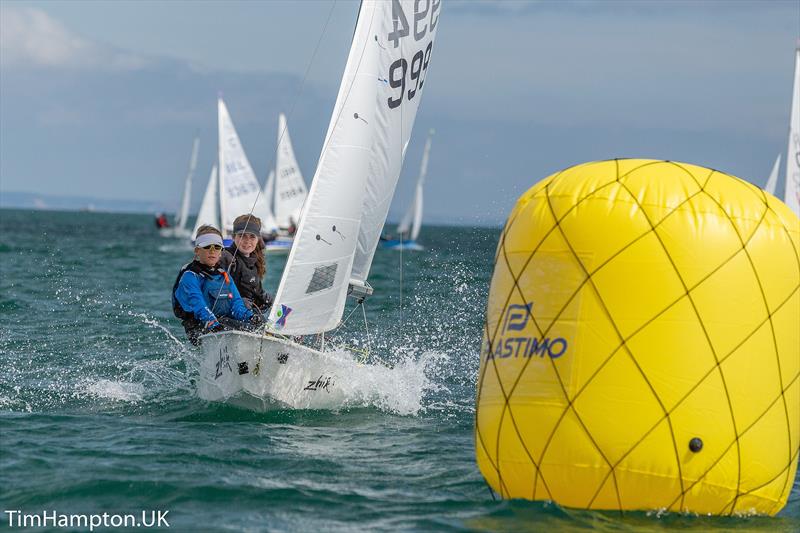 Zhik Cadet UK National Championships at Brixham – photo © Tim Hampton / www.timhampton.uk
On day 3 the conditions looked to be a bit lighter although no less shifty and the wind deciding rather unpredictably which of the three valleys it wanted to blow down towards Torbay. In races 5 and 6 Daisy & Oscar started a move towards the top of the leader board picking up a brace of wins from Lia & Kali and Katie & Dom in race 5 and Eli & George and Anouck De Ripainsel & Maxim Bastens in race 6.
Long term Cadet observers attributed their tremendous boatspeed to them sailing at speed in "low mode" and sitting just a touch further aft than most to help the bow transom through the sloppy choppy conditions. Note to others – they mostly went up the middle too, picking the shifts as they presented themselves rather than banging out to the lay lines.
In regatta fleet Ethan & Thomas also enjoyed a brace of wins, the first from Mimi & Jolyon and then from Ryan & Oliver.
So on we went to day 4. Still a little bit lighter and shifty, still plenty of land effects, still plenty to tempt the sailors to throw caution to the wind and try their luck with the wheel of fortune.
Well sometimes of course fortune does indeed favour the brave and so it was in race 7 that Toby Bush & Kemmel Thorogood, having spun from a start line incident, headed hard right to emerge with a country mile lead at the windward (if I didn't think they'd used up their dose of good luck I'd be getting them to choose my lottery tickets). That said, they then set about a lap of mature, safety-first sailing as Daisy and Toby's brother Oscar looked to close down the gap without initially much success.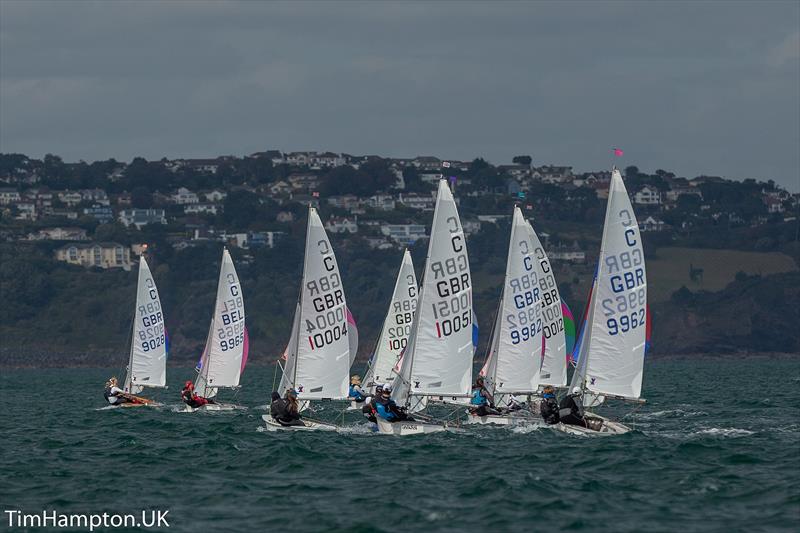 Zhik Cadet UK National Championships at Brixham – photo © Tim Hampton / www.timhampton.uk
All looked to be going well for Toby & Kemmel until the run down the outside of the trapezoid when Toby set off first towards the original inner loop leeward gate, then towards the outer loop leeward mark before finally finding the outer gybe mark and making it round still ahead of Daisy and Oscar. The country mile was now little more than the distance of a gnat's whatsit but up the final beat to the finish Toby's happy-go-lucky demeanour saw him prevail in circumstances when many a more experienced sailor would have surely suffered a confidence crisis. Daisy & Oscar second and Ollie & Will third.
Regatta fleet didn't get much attention from many of us whilst all this drama was going on, although had Toby looked where they were on the outer loop his troubles would have lessened considerably as they were at the time clearly at the gybe mark he was searching for! Ryan & Oliver took race 7 from Elisa & Ammie Power and in race 8 it was Erazem & David picking up their second win of the week from Ethan & Thomas.
Back in the main gold and silver fleet race 8 saw Katie & Dom pick up a race win from Lia & Kali with Daisy & Oscar maintaining their charge to the top with a third… .all delicately balanced going into the final day.
In the end Daisy and Oscar's dominance in the not so windy stuff put paid to the photo finish many expected. Race 9 saw them pick up yet another bullet, this time from Mish Collingridge & Robbie Stewart and Katie & Dom. It wasn't clear from the maths being done on the water but it looked like Daisy and Oscar might have done enough with a race to spare.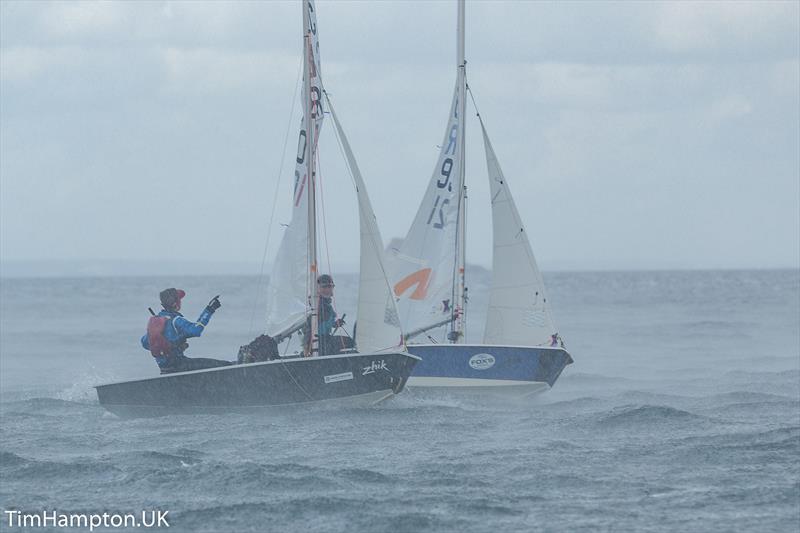 Zhik Cadet UK National Championships at Brixham – photo © Tim Hampton / www.timhampton.uk
No matter, race 10 was still to come and off set Daisy and Oscar like the proverbial butcher's dog to take their fourth bullet of the championships and with it the UK Cadet National Champions title. Second in race 10 were Lia & Kali with Charlotte Leigh & Tom Krailing taking third in Charlotte's last ever Cadet race.
Speaking of butchers' dogs, it's rapidly becoming a mistake (or tradition) for Cadet parents to promise they'll buy a dog for their child if they become National Champions; I did it a year ago and so now come on Spunge and Nellie Nunn – no reneging on promises, no excuses please – it's your turn now!
In regatta fleet race 10 went to Ryan & Oliver from Mimi & Jolyon to allow them to take the overall win by just one point from Ethan & Thomas. A hard fought series there as well and one which impressed Arky our dedicated PRO with the closeness of the racing and seeing six boats properly on the start line at the "B" of Bang.
So that was it – worthy winners in all three fleets (Ioic Schoonooghe & Emilie Winand beat many gold fleet boats on their way to winning silver fleet) and "just" the prizegiving to come with great prizes from our sponsors Zhik and Orion Global Management Services to whom we owe a significant debt of gratitude. I say "just" the prizegiving because those who know the Cadet Class well know that you don't have 50 odd years of history without amassing a wonderful array of silverware festooned with the names of past, present and, hopefully future, Olympian sailors.
We sadly said goodbye as we do every year to a number of sailors moving on to youth sailing but safe in the knowledge "You'll never forget your first Cadet" – you bet!
Oh, did I mention? The parents, we had an absolute ball too.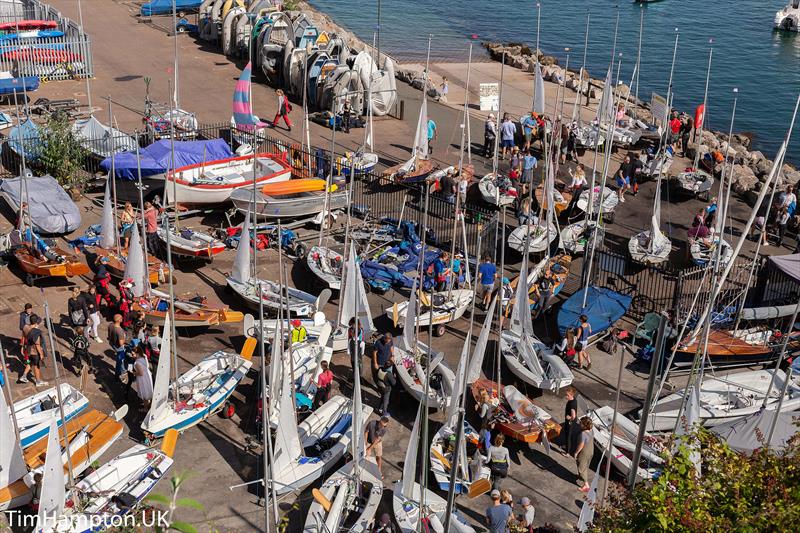 Zhik Cadet UK National Championships at Brixham – photo © Tim Hampton / www.timhampton.uk
Regatta Fleet Results:
| Pos | Nat | Sail No | Helm | Crew | Club | R1 | R2 | R3 | R4 | R5 | R6 | R7 | R8 | R9 | R10 | Pts |
| --- | --- | --- | --- | --- | --- | --- | --- | --- | --- | --- | --- | --- | --- | --- | --- | --- |
| 1st | GBR | 8854 | Ryan Harris | Oliver Caygill | Frensham Pond SC | 2 | 1 | 2 | ‑3 | ‑3 | 2 | 1 | 3 | 3 | 1 | 15 |
| 2nd | GBR | 9371 | Ethan Millar | Thomas Pontet | South Cerney | 1 | ‑4 | ‑4 | 2 | 1 | 1 | 4 | 2 | 2 | 3 | 16 |
| 3rd | GBR | 7679 | Mimi Slump | Jolyon Conway | Frensham Pond SC | 4 | 2 | 3 | 1 | 2 | ‑5 | ‑5 | 4 | 1 | 2 | 19 |
| 4th | BEL | 8522 | Erazem Perko | David Toro | Nuclear | 3 | 3 | 1 | ‑4 | ‑4 | 3 | 3 | 1 | 4 | 4 | 22 |
| 5th | GBR | 9080 | Elisa Power | Ammie Power | South Cerney | 5 | 5 | (DNS) | 5 | 5 | 4 | 2 | 5 | ‑6 | 6 | 37 |
| 6th | GBR | 9083 | Olivia McMorris | Josh Davidson | South Cerney | (DNS) | (DNS) | DNS | DNS | DNS | 6 | 6 | RET | 5 | 5 | 50 |
Main Fleet Results:
If you finished in the top ten at the Cadet nationals then enter your Gear Guide information here
| Pos | Fleet | Nat | Sail No | Helm | Crew | Club | R1 | R2 | R3 | R4 | R5 | R6 | R7 | R8 | R9 | R10 | Pts |
| --- | --- | --- | --- | --- | --- | --- | --- | --- | --- | --- | --- | --- | --- | --- | --- | --- | --- |
| 1st | Gold | GBR | 9994 | Daisy Nunn | Oscar Bush | Waldringfield SC | ‑8 | ‑8 | 3 | 7 | 1 | 1 | 2 | 3 | 1 | 1 | 19 |
| 2nd | Gold | GBR | 10004 | Phoebe Bradshaw | Rhona Enkel | Frensham Pond SC/Maylandsea SC | 1 | 1 | 6 | 1 | 6 | 6 | 6 | 5 | ‑12 | ‑13 | 32 |
| 3rd | Gold | GBR | 10002 | Katie Yelland | Dom Rowell | Frensham Pond SC | (DNF) | 7 | 2 | 10 | 3 | 4 | 8 | 1 | 3 | ‑11 | 38 |
| 4th | Gold | GBR | 10012 | Lia Fletcher | Kali Karaskas | Waldringfield SC/Stone SC | 2 | 11 | ‑12 | ‑23 | 2 | 5 | 12 | 2 | 5 | 2 | 41 |
| 5th | Gold | GBR | 9962 | Ollie Mears | Will Mears | Royal Corinthian YC | ‑26 | 3 | 21 | 4 | 8 | 7 | 3 | ‑33 | 6 | 4 | 56 |
| 6th | Gold | GBR | 10051 | Ethan Davey | Alex Enkel | Waldringfield SC/Maylinsea | 5 | 5 | 9 | 11 | 13 | 8 | 10 | ‑14 | ‑15 | 5 | 66 |
| 7th | Gold | GBR | 9028 | Elinor Watling | George Little | Frensham Pond SC | 11 | 2 | 5 | 17 | 9 | 2 | ‑22 | 6 | ‑26 | 16 | 68 |
| 8th | Gold | GBR | 9985 | Olivia Gowland | HarrietThorogood | Waldringfield SC | 10 | ‑23 | 8 | 3 | 4 | ‑22 | 17 | 10 | 7 | 9 | 68 |
| 9th | Gold | GBR | 9982 | Charlotte Leigh | Tom Krailing | Waldringfield SC | (RET) | 12 | 10 | ‑14 | 7 | 10 | 9 | 4 | 14 | 3 | 69 |
| 10th | Gold | BEL | 9965 | Anouck De Ripainsel | Maxim Bastens | WVD | 4 | 9 | (OCS) | (OCS) | 18 | 3 | 14 | 12 | 4 | 6 | 70 |
| 11th | Gold | GBR | 10001 | Toby Bush | Kemmel Thorogood | Waldringfield SC | 12 | ‑17 | 7 | 6 | ‑39 | 14 | 1 | 9 | 10 | 15 | 74 |
| 12th | Gold | BEL | 9369 | Emma Van Hoof | Leena De Blende | RYCB | (DNF) | 13 | 1 | 13 | 14 | 11 | 7 | 13 | ‑21 | 18 | 90 |
| 13th | Gold | GBR | 9977 | Sam Goult | Sarah McEwan | Frensham Pond SC | 13 | 14 | 11 | 5 | ‑26 | 15 | (DSQ) | 8 | 18 | 8 | 92 |
| 14th | Gold | GBR | 8420 | Rosie Targett | Sophia Sfaxi | Frensham Pond SC | (RET) | 10 | 15 | 9 | 22 | 12 | 11 | 18 | 16 | ‑29 | 113 |
| 15th | Gold | BEL | 9212 | Ziva Perko | Thomas Winand | Nuclear | (DNF) | 6 | 23 | 8 | 12 | (OCS) | 5 | 7 | 29 | 24 | 114 |
| 16th | Gold | GBR | 9984 | Ben Goult | Alex McEwan | Frensham Pond SC | 9 | 4 | 29 | 16 | 5 | 9 | ‑30 | 16 | ‑32 | 27 | 115 |
| 17th | Gold | GBR | 9983 | Hazel Whittle | Gwen Thorogood | Waldringfield SC | 15 | ‑26 | 13 | 2 | 21 | 18 | 21 | ‑27 | 17 | 20 | 127 |
| 18th | Gold | GBR | 9964 | Yasmin Sfaxi | Matteo Mancini | Frensham Pond SC/Fishers Green SC | 3 | 16 | 14 | ‑26 | 17 | 16 | ‑27 | 24 | 13 | 26 | 129 |
| 19th | Gold | BEL | 10055 | Helena Schoonooghe | Astrid Van Daele | BZYC | 6 | ‑37 | 24 | 21 | 11 | 20 | 15 | 19 | 19 | ‑35 | 135 |
| 20th | Silver | BEL | 8514 | Ioic Schoonooghe | Emilie Winand | BZYC Belgium | 21 | 28 | ‑33 | 27 | 16 | 13 | 13 | ‑29 | 8 | 10 | 136 |
| 21st | Gold | GBR | 9378 | William Shepherd | Tom Shepherd | Frensham Pond SC | 18 | 19 | 16 | 12 | 27 | 23 | ‑32 | 11 | ‑33 | 14 | 140 |
| 22nd | Silver | GBR | 9876 | Isobel Stewart | Chloe Morgan | Waldringfield SC | (DNF) | 15 | 4 | ‑37 | 29 | 25 | 20 | 17 | 20 | 12 | 142 |
| 23rd | Gold | GBR | 8845 | Toby Slump | Emily Cullen | Frensham Pond SC | 16 | 29 | ‑36 | 24 | ‑34 | 21 | 4 | 22 | 9 | 23 | 148 |
| 24th | Silver | BEL | 9038 | Marie Bastens | Lore Stroobandt | RYCB | 19 | 21 | ‑31 | 22 | 24 | 17 | 16 | 26 | 22 | ‑31 | 167 |
| 25th | Silver | GBR | 9382 | Max Buswell | Monty Hampton | South Cerney SC | 17 | ‑31 | 17 | 19 | 19 | 19 | 29 | ‑37 | 31 | 22 | 173 |
| 26th | Silver | GBR | 10032 | Amelia Mayhew | Elouise Mayhew | Waldringfield SC | 25 | 25 | 19 | 25 | ‑31 | 24 | 18 | 21 | ‑30 | 17 | 174 |
| 27th | Gold | BEL | 9575 | Miguel Toro | Briek Boone | VVW | 23 | 22 | ‑30 | 18 | 20 | ‑29 | 28 | 25 | 23 | 21 | 180 |
| 28th | Gold | GBR | 9877 | Hamish Collingridge | Robbie Stewart | Waldringfield SC | (DNF) | (OCS) | 32 | 33 | 10 | 31 | 23 | 20 | 2 | 30 | 181 |
| 29th | Gold | GBR | 10076 | Hannah Carruthers | Libby Daunter | Frensham Pond SC | 7 | 32 | 26 | 28 | ‑33 | 28 | 25 | ‑35 | 25 | 19 | 190 |
| 30th | Gold | GBR | 10003 | Libbie Bush | Joppe Pattyn | Waldringfield SC | (DNF) | 20 | 27 | 20 | ‑35 | 26 | 19 | 28 | 28 | 28 | 196 |
| 31st | Silver | GBR | 8852 | Tristan Whittle | James Bailey | Waldringfield SC | 24 | ‑35 | 18 | 29 | ‑37 | 27 | 24 | 34 | 35 | 7 | 198 |
| 32nd | Silver | GBR | 9367 | Tom Walker | Ned Fairhurst | Frensham Pond SC | 22 | 18 | 22 | 30 | 32 | 32 | ‑33 | (RET) | 11 | 32 | 199 |
| 33rd | Silver | GBR | 9576 | Edward Fletcher | Charlie Bailey | Waldringfield SC | 20 | 24 | 25 | 32 | 25 | 34 | 36 | 15 | ‑39 | ‑39 | 211 |
| 34th | Gold | GBR | 9321 | Ines Green | Emilia Mayhew | Waldringfield SC | 14 | 34 | 20 | 36 | 23 | ‑37 | 35 | ‑38 | 27 | 25 | 214 |
| 35th | Silver | GBR | 9027 | Phoebe Barr | Brandon Barker | Royal Corinthian YC | 27 | 27 | 28 | 34 | 15 | 30 | (RET) | 32 | 24 | ‑37 | 217 |
| 36th | Gold | GBR | 9673 | Alana Corbett | Monty Slump | Frensham Pond SC | (DNC) | 30 | 35 | 15 | 28 | 35 | 34 | 31 | 34 | ‑36 | 242 |
| 37th | Silver | BEL | 8404 | Kobe Stroobandt | Roshan Uppal | RYCB | (DNF) | 33 | 37 | 31 | 30 | 33 | 26 | 23 | ‑38 | 33 | 246 |
| 38th | Gold | GBR | 7202 | Emilia Hampton | Jemima McMorris | South Cerney SC | (DNF) | 36 | ‑38 | 35 | 36 | 36 | 31 | 30 | 36 | 34 | 274 |
| 39th | Silver | GBR | 9401 | Megan McMorris | Ava Roberts | South Cerney SC | (RET) | ‑38 | 34 | 38 | 38 | 38 | 37 | 36 | 37 | 38 | 296 |